Meet Marigold: From a shelter cat with chronic diarrhea and on a euthanasia list, to present day – a happy, healthy and well-loved cat. Fierce love from her person led to a long search for health solutions, which included dietary changes and Gut Restore Supplements to restore important gut bacteria missing from Marigold's gut microbiome (bacteria within the digestive tract).
Without the community effort of the rescue group Cat Town, veterinarians, AnimalBiome, and her pet parent, Tracy; Marigold would not be here today. Discover Marigold's story told by her dedicated person, Tracy.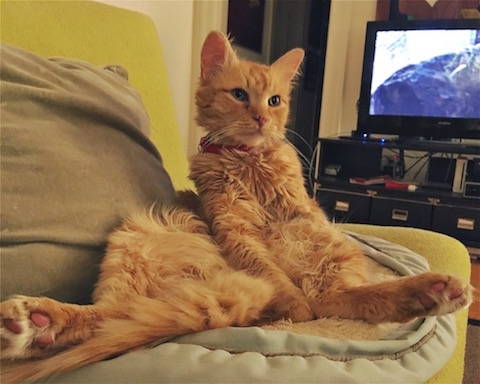 Marigold the Cat
I first met Marigold in the summer of 2012 while volunteering at my local city-run animal shelter.
This beautiful tabby cat arrived as a stray and quickly won the hearts of each volunteer she met.
She was outgoing, cute and so well-adjusted. We knew she wouldn't take long to meet her forever humans. Her stay at the shelter was a bit longer than anticipated and long enough for her digestive issues to pop up. The problem was initially pretty mild, but it grew worse. One day, I arrived for my volunteer shift and discovered the walls of her cage smeared in feces that had oozed uncontrollably out of her, covering her fluffy hindquarters and tail. She was placed on the shelter's euthanasia list later that week.
Facing Euthanasia
The night before Marigold was scheduled to be euthanized, Cat Town, a local non-profit cat rescue found a foster home for her–whisking her out of harm's reach with only hours to spare.
Marigold's digestive issues continued to be a problem in her new foster homes. She burned through 3 different foster homes, none could bear the magnitude of her diarrhea.
These issues were somewhat under control when she arrived at my home shortly before Christmas of 2012. At this time, Marigold was making frequent trips to the litter box to deposit little brown puddles, but was nowhere near as bad as I had seen her while at the shelter.
I promised Marigold I would find a solution. I was determined to do it without putting her on steroids, which can cause a number of serious side effects when used long-term.
Could Her Chronic Digestive Issues Be Resolved Through Changing Her Diet?
I began scouring the labels of every brand of cat food and quickly discovered she was unable to process any sort of grain or starch. I eventually found a limited ingredient kibble that seemed to clear everything up like magic. She was stable on this kibble for over a year during which her litter box deposits were less frequent and more fully formed.
Sometime in 2015, however, the kibble stopped working. Marigold's litter box trips became more frequent; the deposits more watery, and she had flare-ups that caused her a lot of discomfort.
She began avoiding the litter box again, so we tried:
changing her diet; this time to a "novel" protein she'd never had before – rabbit
two different rounds of prednisolone, a steroid (neither of which helped)
a variety of probiotics
Nothing Seemed to Work
Shortly before Christmas in 2016, Marigold experienced the worst flare-up she'd ever had while in my care. She lost all control of her bowel movements, stopped eating and drinking, and lost a full pound in under two weeks. I thought she was going to die.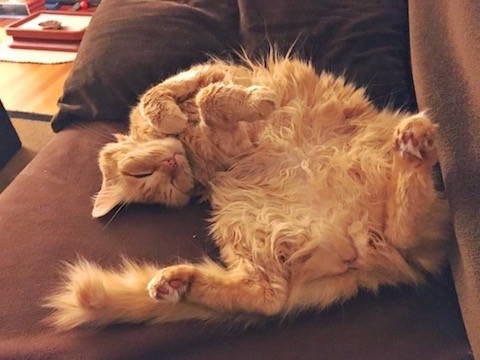 At Last!
This is when I heard about AnimalBiome's Gut Restore Supplement (fecal transplant in an oral capsule), which contain cat-specific beneficial bacteria to help correct bacterial imbalances in the gut microbiome. I decided to give it a try. Within 3 days of starting the supplements, Marigold regained control over her bowel movements.
After one week, she was doing something she had almost never done since I had known her–she was having normal bowel movements.
It's a year later and I'm still amazed at how effective the fecal microbiota transplant (FMT) capsules were. Though I'm still cautious with her diet and avoiding foods with grains and starches. Marigold is healthier and more energetic than she has ever been.
Thanks to AnimalBiome, I was able to keep my promise to help her and without a long-term steroid treatment.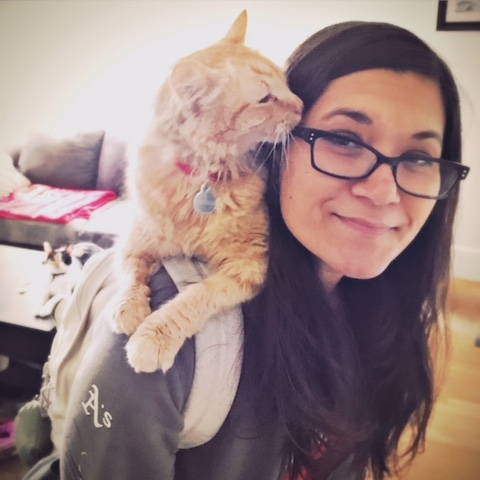 About This Story
This story was shared by Tracy Gondo, Marigold's dedicated owner, who runs Kittie Corner, a cat-sitting service in Oakland, California.
Cat Town was founded by Ann Dunn while she was a volunteer at Oakland Animal Services, Oakland's municipal shelter. Ann saw the challenges faced by the severely under-resourced shelter to adequately care for the number of animals it receives each year, and the specific difficulties cats face in a shelter environment. Ann was quickly joined by other shelter volunteers to create an alternative to the shelter for the cats who are at greatest risk for euthanasia.